Smith & Wesson's M&P 15 Sport II OR M-LOK
Basic model, not a beginner's model
07/04/2021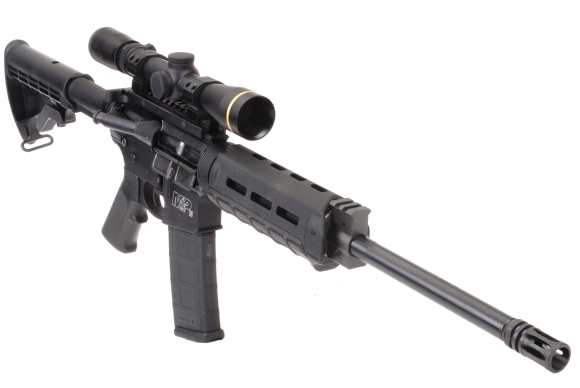 We recently published a review of the Smith and Wesson M&P 15T and, now, thought it would be good to briefly cover the lower cost AR 15 in the Smith and Wesson line up. The M&P 15 and M&P 15 II are higher end products, factory supplied with a number of features and accessories that reflect popular trends.
M&P 15 Sport II OR M-LOK

Manufacturer
Smith & Wesson
Origin
Springfield, MA

SKU
12024
Caliber
5.56 NATO / 223 Remington
Action

Semi Auto

Gas System

Carbine Length

Mag Capacity
30 Round PMag
Barrel Length
16″, 1/2″-28 Threaded

Rifling
1:9″ 5 RH

Weight
6.5 Lbs
Overall Length
32″ – 35″
Buttstock
6 Position CAR

Receivers
7075 Aluminum
Receiver Finish
Type III Hard Coat Anodized
Barrel


4140 Steel Black/Armornite

®

Length of Pull
10.25″ – 13.5″
Sight Mount
Full Length Picatinny Rail
Sights

None

Trigger
4 Lbs. 9 Oz. Single Stage
Safety
Rotating
MSRP
$792
The M&P 15 Sport II, pictured above, is a more basic AR 15 type. Not in function, fit and finish, but rather in the way it is configured as it leaves the factory.
The M&P 15 Sport II as supplied is not as full featured as the M&P 15 & M&P 15 II, but could be brought to this level with the purchase of aftermarket bits and pieces. The products are separated by a price differential of approximately $580.
Product line separation
One of the big challenges for manufacturers of any product is to serve both high end and budget conscious buyers where the core product is the same, while justifying the price difference with tangibles. The tangibles have changed considerably between the M&P 15 II and the M&P 15 Sport II.
In 2006, when the Sport version was introduced, the difference between the M&P 15 and M&P 15 Sport were at the core product level and obvious. The M&P 15 had a forged lower receiver where the Sport's was milled. The M&P 15 had a chrome lined barrel, the M&P Sport did not. The Sport lacked forward assist and a dust cover. The Sport lacked handguard heat shields. The Sport has a slower rate of twist and a trigger guard that was milled integral to its lower receiver.
In 2016, the M&P Sport II was introduced and in 2021 the M&P 15 II was introduced, eliminating most of the core product differences and placing most of the price difference in accessory configurations.
Both products have an integral trigger guard and forged lower receivers. Both have barrels made of 4140 steel, treated with hard Armornite finish inside and out. Both models have a forward assist and dust covers. The Sport II has handguard heat shielding.
There are significant  differences between the two products
The M&P 15 II has a mid length gas system. The Sport II has a carbine length gas system.
The M&P 15 II has an 8″ rate of twist. The Sport II has a 9″ rate of twist.
The M&P 15T II is shipped with Magpul MBUS front and rear fold down sights. The Sport II ships with no sights.
The M&P 15T has a Magpul CTR Carbine length stock and 15″ Free Float handguard. The Sport II has a 6 position CAR stock and Delta ring secured Magpul M-LOK handguard.
The M&P 15T II has an

M&P

®

grip with four interchangeable

palmswell grip inserts.

The M&P 15 II has a rubber buffered lower receiver for tighter fit and improved accuracy.

The M&P 15 II has an ambidextrous Radian Raptor-LT™ charging handle.

The M&P 15T II has a flat faced trigger.
The item that is not on the list regarding differences between the M&P 15 II and M&P Sport II is quality. From what I have seen, while features may differ substantially, quality of materials and fit and finish are the same.
Controls where you would expect to find them
Unlike the M&P 15 II, the safety is not ambidextrous. However, safety positions are engraved on both sides of the receiver and the safety lever can be installed on either side. The grip is a standard A2 25° piece. The buffer tube is mil-spec.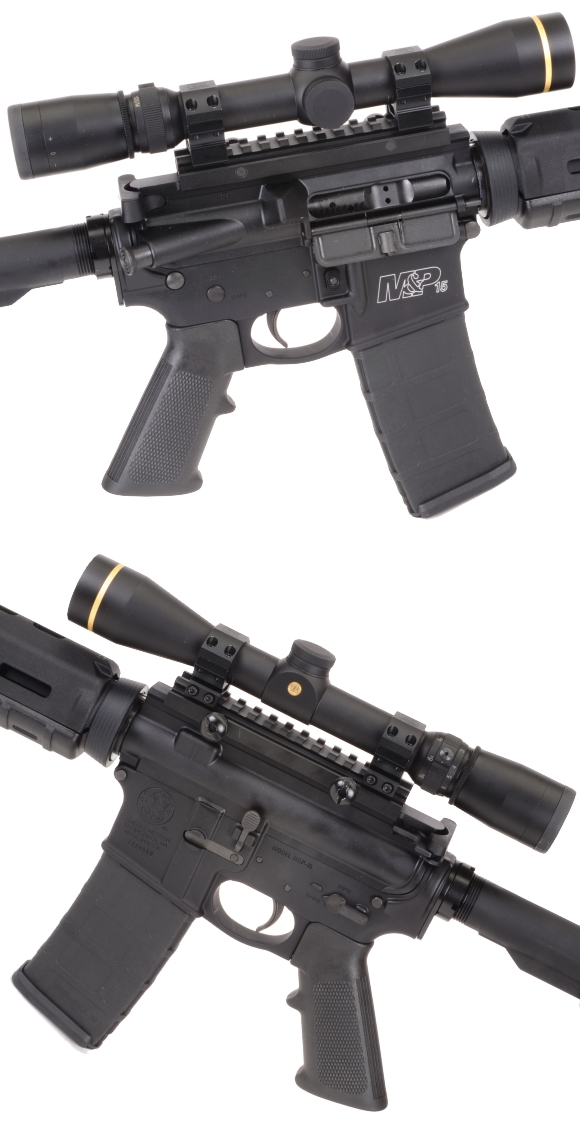 With a Picatinny rail ahead of the handguard mounted to the M&P 15 Sports II's barrel, an M-LOK accessory compatible handguard and a rail integrated into the upper receiver, just about any type of sights can be installed; mechanical, electronic, optical and any combination of the same. In this case a 32mm objective lens 2x-8x scope is mounted to the receiver rail with the addition of a 1/2″ riser. This proved just about perfect for eye to scope optical center alignment. A 2″ M-LOK Picatinny style rail panel is included for mounting accessories to the handguard.
Works better with ammo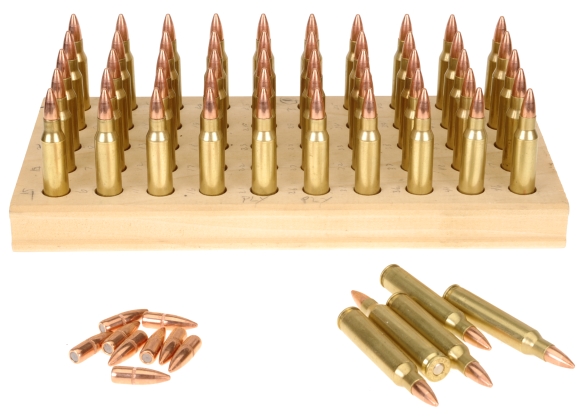 Some time was invested in handloading a few blocks of ammo that has worked well for me with AR 15s. Nothing exotic, and nothing pushing pressure to elevated levels. Hornady 55 grain lead core, FMJ-BT bullets and brass, CCI small magnum rifle primers, 26.5 grains of Hodgdon CFE 223, and an OAL of 2.195″. Chronograph readings averaged 3,024 fps.
Shooting from a sled, 100 yard, 5 shot groups ran from 0.8″ to 1.3″ with either the silencer or flash hider in place. The larger groups were mostly associated with shooting from a cold silencer. There were no failures to fire, no failures to cycle and no beat up brass. The soot from silencer blow back did not hamper the M&P 15 Sport II's operation in any way.
The six position buttstock provided enough adjustment to make shooting from any position comfortable. Recoil was… 223 Rem recoil, so not much. The safety engagement was positive, magazines popped in and out with confidence. The scope's, rings and riser stayed put throughout the day. Good price, good performance… I think I would leave it the way it was received.