Winchester's Wildcats – Rifle and Ammunition
As sung by Gene Autry...
08/08/2021
My wife and I celebrated our fifty fourth wedding anniversary and my wife's birthday this week. Good years, easy years and tough years. Military service and career caused temporary physical separation. Raising a family, relocating around the country… see military service and career, things always seemed in a state of flux, except for closeness of family. A wonderful wife and a greater power seemed always to keep us right side up.
These past eighteen years of living in Maine proved to be the right location decision for us. We got to build our home, spend our time together, working on home and work projects. After fifty four years together, conversation is still easy and interesting. We know one another well and we make one another smile over her interesting and informative banter and my feeble attempts at humor.
I highly recommend being with the right person. There is no substitute, as a life worth living is a life shared. Happy Anniversary and Happy Birthday, Sweetie. I love you to pieces.

In 1959, I purchased a then new model Remington Nylon 66 22 LR in Mohawk Brown. It was my plinker, my varmint rifle and my target rifle long enough to shoot out two barrels. Not a big deal to change, as the barrel is secured to the stock with a bracket and single screw that locks into a groove cut across the barrel shank. I still have the rifle. Even after it was sold and repurchased a couple of times and hocked a couple more. If I ever find a good windage screw for the rear sight I will put it back into service.
The Winchester Wildcat is the first rimfire rifle I have encountered that could replace my old Nylon 66, in all of its applications, and at about one-third the current cost of a vintage Model 66. The version pictured has a threaded barrel that accepts a wide array of 1/2″ x 28 TPI mounted muzzle devices. In this case, a rimfire silencer has been mounted.
Winchester Wildcat


Manufacturer
Istanbul Silah – Turkey
Item #


521101102

Caliber
22 Long Rifle

Magazine Capacity
10
Barrel Length
16.5″

Twist Rate
1:16″

Barrel Material

Alloy Steel – Black

Receiver Material

Black Composite

Weight
4 lbs 0 oz.
Overall Length
34.75″
Stock
Composite
Pull
13.5″
Drop at comb
7/8″
Drop at heel
7/8″
Non-optical sights
Ghost – Adjustable

Scope Mount

Picatinny Rail

Trigger Pull
5 lbs. 2 oz.
Safety
Cross Bolt

MSRP

$299.99
The Winchester Wildcat appears small, almost like a compact rifle for a young shooter. It is very light and it is compact, but the stock geometry with a 13.5″ length of pull and set back pistol grip are comfortable fits for an adult. The comb height and ghost sight height makes for natural line of sight down the barrel. A receiver integrated Picatinny rail makes for easy mounting of red dot sights and optical scopes.
The Wildcat's lightness comes from a number of contributing areas. The skeletal stock is polymer, the lower receiver assembly is polymer and the receiver that mounts the barrel is polymer. The alloy steel barrel has a sporter contour. The forearm is narrow, but finger grooved for a stable and comfortable grip, and grooved to form a nonslip surface. The buttstock, bucking tradition, has been hollowed in the middle. It is heavily ribbed for solid structure and the underside has been removed because… well, nobody ever uses it except to support shooting bags.
The use of polymer for receiver and the bulk of the rifle is not controversial. Not functionally, but from a use of polymer material standpoint, the Winchester Wildcat is a futuristic version of my 60+ year old Remington Nylon 66 that has seem probably half a million rounds of ammo. For as mid century modern as the Remington is, the Wildcat has a very contemporary, very sleek, very modern look with some very nice engineering.

Above, the composite receiver, slip fit barrel and cross bolt through clamping surfaces. The tab at the front locates the front end of the lower receiver assembly.
By depressing the disassembly button at the rear of the receiver, all of the moving parts of the action and the magazine housing come out as part of the Lower Receiver Assembly. The bolt handle rotates upward to clear the ejection port. The lower receiver housing is a polymer piece. The blowback action is striker fired.
The Winchester Wildcat features a wealth of entertaining innovation. Yes, I did say entertaining, but not at the expense of functional improvement. I think Winchester should label the magazine "No Fumble". Not only does it insert in a positive fashion, but it ejects into the palm of the hand with a quick tug on the side mag releases.  When belly side up on the bench, a conventional mag front release will also eject the magazine. The hemispheric striker hits a rimfire round where the primer compound resides, rather than having its energy dissipated by a cartridge's solid brass rim edge. Neat. Yes, those are two hex wrenches tucked away in there. One for sight adjustment, the other for stock fastener removal.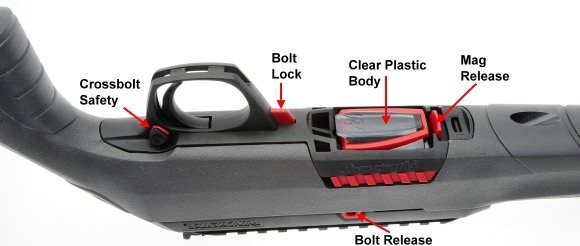 Very clean ergonomic design. All controls are easy reach and actuated with appropriate resistance.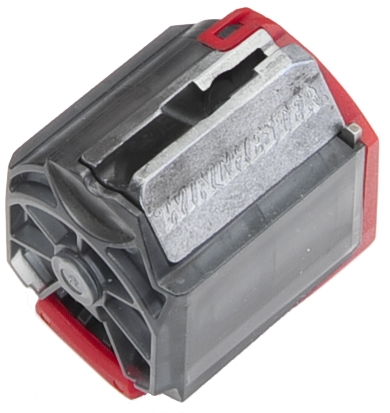 The Winchester Wildcat magazine holds ten rounds. Its feed lips are metal to take a lot of wear and tear, a follower wheel on the back of the magazine rotates ammunition in while loading and the small tab sticking up in the right of the photo holds the rifle's bolt open on entry.
A little forend slight of hand. A rail cover conceals an unused rail and sling swivel. While it is easy to pull off, it is not easy to knock off. I apologize for the dust. The shop is heated with propane, fired in a closed system that looks like an antique wood stove. Subsequently, the shop interior's humidity is about 30%. Good for drying stock blanks, good for preventing rust. Lousy for static sensitive electronics and, obviously, for photography. Especially when I have forgotten to vacuum off a firearm prior to a photo shoot.
For as light as the stock is, it definitely feels stout. Winchester used a combination of ribs, boxing and triangular for to make the stock very rigid. The Wildcat's barrel floats in its barrel channel, which removes inaccuracy caused by uneven pressure points on a barrel.
Shooting performance
The groups appearing on the table that follows were shot with a 9x scope to register the rifles accuracy rather than that of my eyesight. That said, I like the ghost sight set up. It is fast and accurate. I've seen them criticized for having a fuzzy rear sight image… see "ghost" sight, and some folks suggest it is impossible to center a bead in circle… see "precision peep sights". For folks who can trust their brain to conspire with their eyeball to center concentric circles, a ghost sight is excellent. The rifle was nearly as accurate with the ghost sights.
The sights are polymer, which fits in well with the rest of the rifle. The rear sight is adjustable for windage and elevation, and yes the hex wrench to adjust them is stowed in the lower receiver assembly. That one is a little curious, as I don't see pulling the guts out of a rifle to adjust the sights when I could just add the small hex wrench to my pocket shooting tool kit. Yes, "small" is the correct size wrench.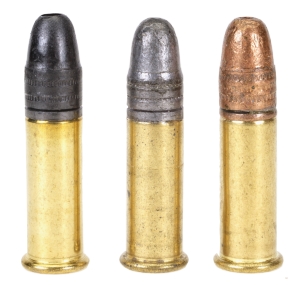 Ammunition
Bullet
Weight
Grains
Rated
MV FPS
24″ BBL

Actual
MV FPS
16.5″ BBL

50 Yard
3 Shot
Group
Eley Subsonic

40

1040

1014

1.2

Winchester Wildcat


40

1255

1170

1.3

Winchester Target

40

1150

1161

1.0

The 50 yard groups were shot from a rest. Wait… how do they say it? Oh, yeah. The rifle was steadied on a solid rest. The shooting bench was fashioned from sturdy pine (my big ol' picnic table with a large cast iron rest). A slight buffeting wind was blowing across the target in a north by north west direction that rustled through the sparse strands of hair on my head. Temperature was 32.06°F, humidity was 99% and the barrel, it was warmed to 42°F. No, you don't have to recreate those conditions. The rifle shot about the same, cold or warm, and it was not particularly ammunition type sensitive.
Overall
Winchester's Wildcat is a refreshing product at a time when many manufacturers are making rifles that are priced cheap, but they are made cheap. The Wildcat, however, is well made and reliable in our experience with lots of ammo, a number of different shooters, and no failures to fire or feed.
The bolt locking open on empty is appreciated. The positive latching and unlatching of the rotary magazine is appreciated. The easy take down for cleaning is appreciated. The lightweight and good balance are appreciated. Very nice little rifle.